SKR Line
The Universal Relay SKR
The strengths of the SKR industrial relays lie in the mature, proven and well thought out construction. Above average reliability of electrical contacts and life span, electrical and mechanical status indication as well as the unsurpassed construction from only six building groups, makes this relay an excellent power switch.
The Timer Module STM100
Special characteristics: 8 adjustable functions and 8 selectable time intervals. With only one execution of the time module all the important operating voltages, functions and time intervals are covered. The result: a simple, economical stock item with full function varieties.
The Socket
The large, connection-friendly c-clamps and the high-contrast terminal marking helps to make the socket ideal for various applications. The sockets ZKE/ZKX permit a fast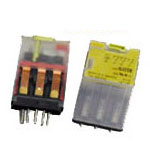 safe and secure assembly. The entrances and exits are separately located on one level. Another variation is offered, together with the SKR relay, the timer module STM100 and is also available with other options.
Characteristics
Simple construction
High contact rating
Contact springs from berylium bronze
Shatterproof wire sizes
High life span
Electrical or mechanical on/off indicator
Manual control integrated in relay housing
Simple assembly
Applications
Where a time-dependent procedure must be controlled in a simple manner
Construction of panels
Machine industry
Lighting
Gate controls
Machine controls