MR Line
The Special Relay MR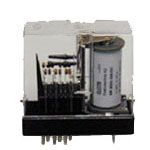 The MR relay is a reliable and versatile component with outstanding contact achievement and a high degree of sensitivity and reliability. The large coil and the variable contact assembly make many different executions possible for different application purposes.
Characteristics
Different contact arrangement permits an ideal adjustment to a particular use.
Short contact springs ensure low bounce or over-travel.
Special plastic spans of the contacts contribute to constant contact pressure over a long lifespan even with unfavorable climate conditions.
Applications
Industrial electronics
Machines and automatic control